Living in Florida, we know how very brutal the sun can be and how quickly we can burn.
Overwhelmingly, the advice seen in my research for this post was to keep your baby out of the sun.
HELLO…FLORIDA! We can get a sunburn walking from the house to the car to the store!
So what's a parent to do?
The sun is strongest between 10:00 a.m. and 4:00 p.m. If at all possible don't take baby to the beach during those hours. But if you're like us, you want to spend as much time at the beach as you possibly can, so here are some tips to keep our little ones safe from those nasty sunburns. Also mums, remember, you need to be protected as well, so take a look at websites like https://thehermoza.com/collections/post-baby for bathing suits that you can wear after you've had your baby so you feel comfortable out and about at the beach too.
For children younger than six months, the FDA recommends NOT using sunscreen if you can avoid it. If you can't, use as little as possible and only on their nose, ears, and hands. Shade screens are a must-have if you're like us and spend weekends at the beach. Just don't use that blanket in the closet. You need something designed to keep the UVA and UVB rays off the baby and a heavy quilt. On a side note, if you don't have the right sized quilt for covering the baby, perhaps, you can approach a professional with a quilting cutting mat, so that they can cut shape the quilt for you. Also, keep in mind that sometimes providing shade can make it even hotter for the baby by blocking airflow. Dress the baby in long-sleeved light-weight clothing, a hat, and some sunglasses. Don't forget their feet, some cute options are shown below.
Who doesn't love a baby in a cute hat, sunglasses and fun shoes.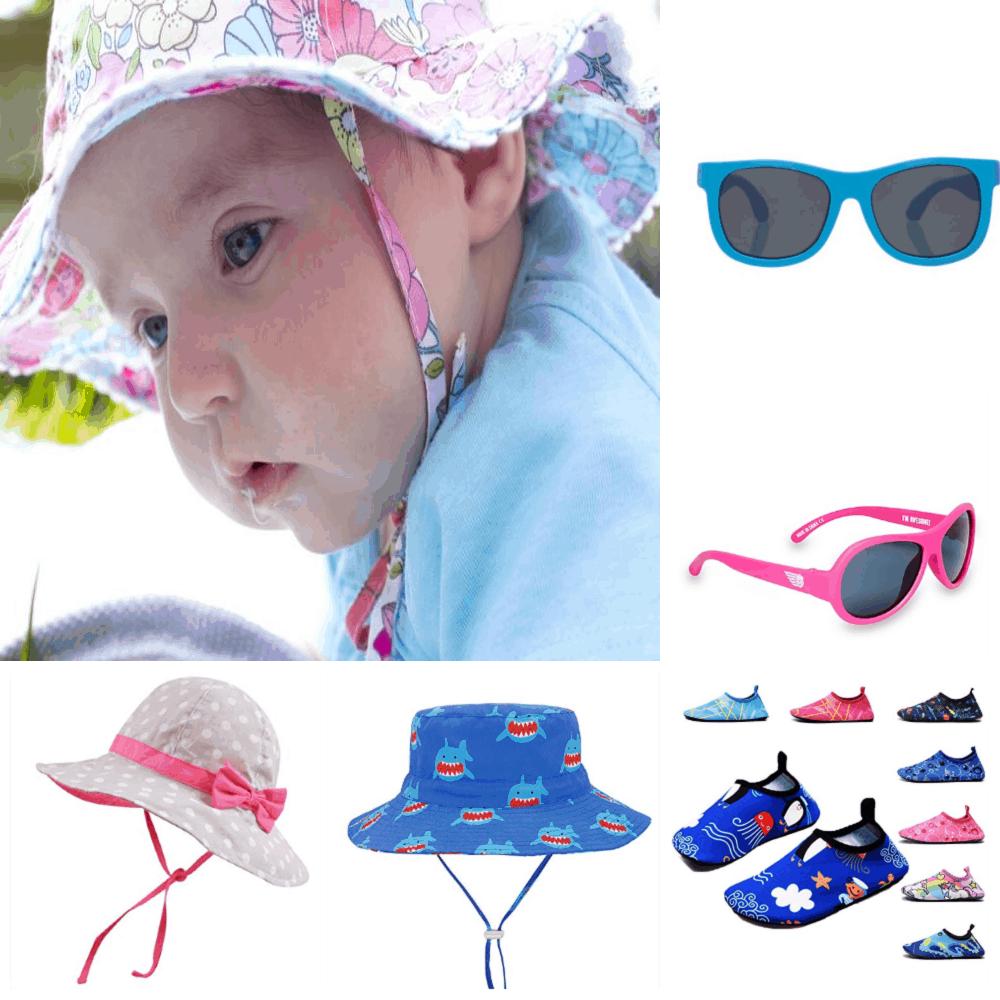 You can find these items here: https://amzn.to/2WgWcf2
These swimsuits will help protect baby and are rated UPF 50+ for over 98% protection from the sun – NO sunscreen chemicals are added; all protection is from the weave of the fabric.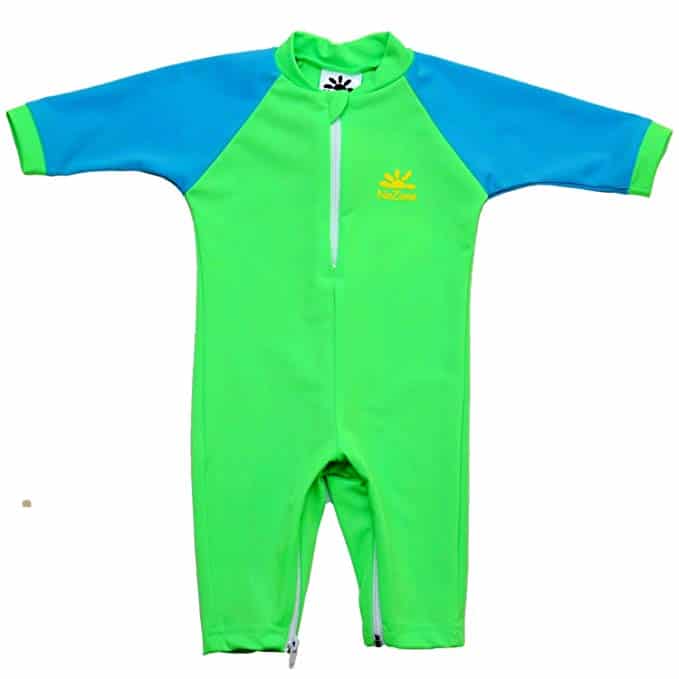 There is strong evidence that sun exposure and sunburns during childhood multiply the risk of one day developing skin cancer, including melanoma by up to 50%! That's just scary to us.
Melanin, the skin pigment that determines our skin coloring doesn't develop in babies until 6 months of age. this makes it doubly important to protect babies from sun damage. This also applies to darker complexioned babies. While they may look like they have enough melanin to protect them, they don't.
Melanoma is rare in children, through age 20, but the numbers are rising, which means we need to stop that number from going up.
Hands down, dermatologists recommend that sunscreen is "mineral" sunscreen. It should have titanium dioxide or zinc oxide. These are "natural" sunscreens and deflect the sun's rays rather than absorbing them. (Thanks for the info Wink News). In addition to keeping more of the sun's harmful rays away from your skin, they are also reef friendly and will not harm sea life, which is wonderful
Some of the best out there are:

If you're careful and remember moderation in all things, go ahead and take the kids to the beach. They'll love it!
Information gathered from these sites:
https://www.skincancer.org/prevention/sun-protection/children/oh-baby
http://kidstraveldoc.com/protecting-infants-and-young-children-from-the-sun/